Winter Season - Winter Hiking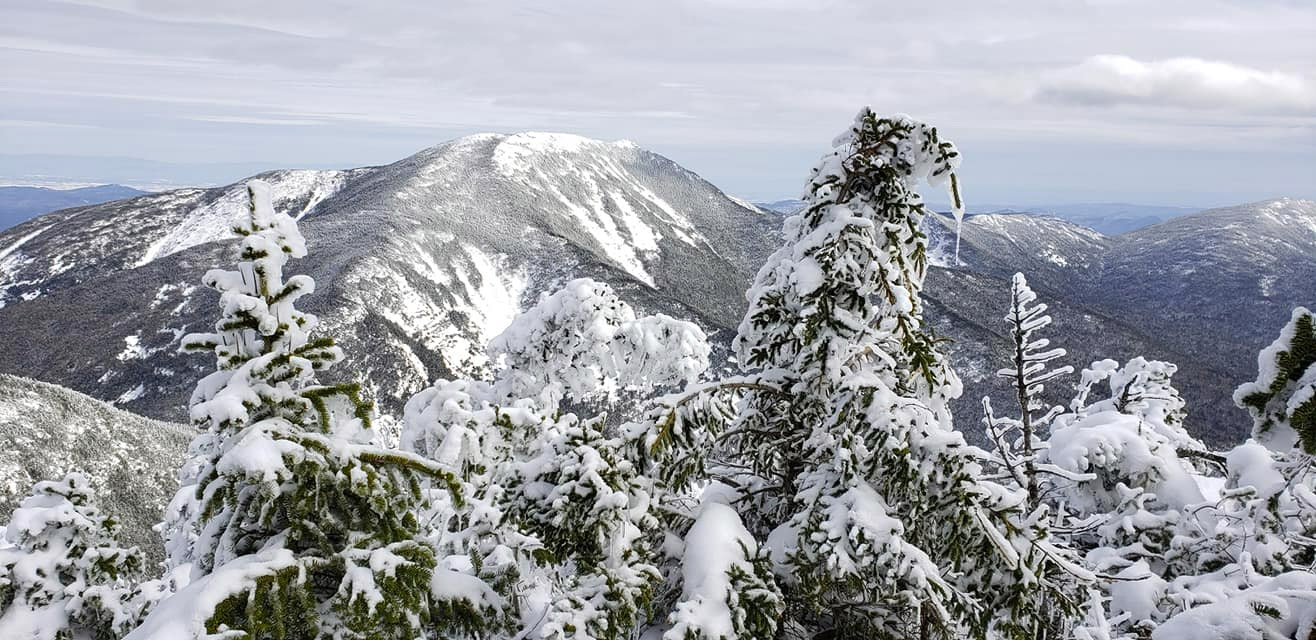 Winter Hiking
Adirondack All Seasons Guide Service is available for guided hikes during the colder weather season. Whether you are a solo traveler, couple, family, or small group of friends (up to 6 people), we would be happy to help you plan an experience, based on your desires and ability level, at a time that works for you. Trip possibilities include trails that meander through varied forests, along the shores of beautiful waters, and a variety of mountain experiences including the Tupper Triad, Saranac Lake 6er and Lake Placid 9er.
Please note the the DEC requires the use of snowshoes when there is 8" or more of snow on the trails.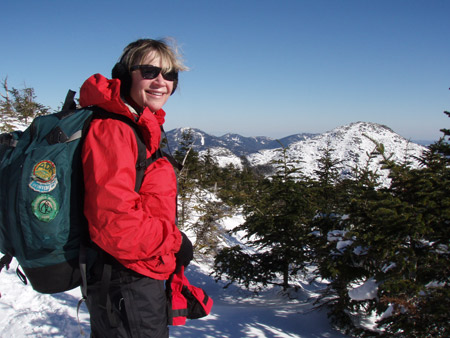 We are available for trips most weekends through the winter and spring seasons. The locations we are most familiar with include the areas around the villages of Lake Placid, Saranac Lake, Keene Valley, Paul Smiths, Lake Clear, Tupper Lake, Newcomb & Blue Mountain Lake. Please complete a Plan A Trip form letting us know how long you would like to be out and what your interests are, and we will provide you with some trip suggestions and options. Trip details, directions to the meeting point, a packing list and other pertinent trip information will be provided once a trip is decided upon and reservations are made.
Please contact us with any questions you may have, for more information, trip suggestions and/or to make reservations for an experience of your choice. Last minute inquiries are welcome and subject to availability. Please note that snowshoes, micro spikes, crampons and an ice ax may be necessary for some winter hiking trips.
Guided Tupper Lake Triad Challenge
Climb one, two or all three mountains. After successfully hiking all three peaks, hikers can register on the official Triad Roster and receive a patch -- and bragging rights, of course. Contact us to schedule a trip at a time that works for you.
Total distance: 7.6 miles. Terrain: Moderate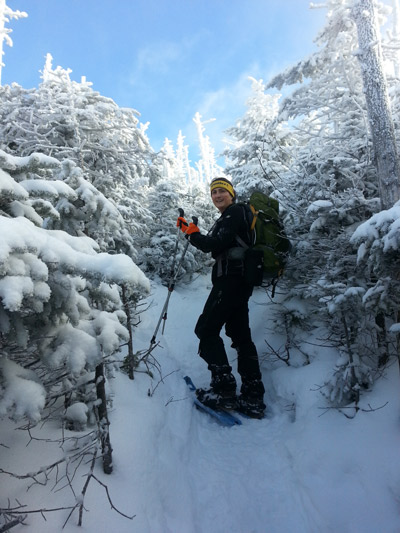 Coney Mt. - (2.2 mile RT; 2280' elev; 548' ascent)
Goodman Mt. - (3.4 mile RT; 2178' elev; 581' ascent)
Mt Arab - (2 mile RT; 2545' elev; 764' ascent)
Guided Saranac Lake 6er Trips
Contact us to schedule a trip at a time that works for you.
Baker Mt. - (~1.8 mi RT - optional 2.0 mi LOOP; 2452' elev; 900' ascent)
St. Regis Mt. - (~6.8 mi RT; 2866' elev; 1266' ascent)
Ampersand Mt. - (~5.4 mi RT; 3353' elev; 1775' ascent)
McKenzie Mt. - (~7.2 mi RT - optional 6.8 mi loop; 3861' elev; 1940' ascent)
Haystack Mt. - (~6.6 mi RT; 2878' elev; 1240' ascent)
Scarface Mt. - (~6.8 mi RT; 3088' elev; 1480' ascent)
McKenzie & Haystack Mts. - (~8.9 mi LOOP; 2184' ascent)
Guided Lake Placid 9ers
Contact us to schedule a trip at a time that works for you.
Cobble Hill - (2.2 mile RT; 2,332' ascent)
Mt. Jo - (2.6 mile RT; 2,876' ascent)
Baxter Mountain - (2.4 miles RT, 2,440" ascent)
Mt. Van Hoevenberg - (4.4 miles RT, 2,940' ascent)
Big Crow Mountain - (1.4 miles RT, 2,815' ascent)
Bear Den Mountain - (4.5 miles RT, 2,650' ascent)
Pitchoff Mountain - (5.2 miles RT, 3,500' ascent).
Catamount Mountain - (3.6 mile RT, 3,169' ascent)
Hurricane Mountain - ( 6.8 miles RT, 678' ascent)