Equipment & Gear Information
LIGHTWEIGHT...COMPACT...MULTI-PURPOSE...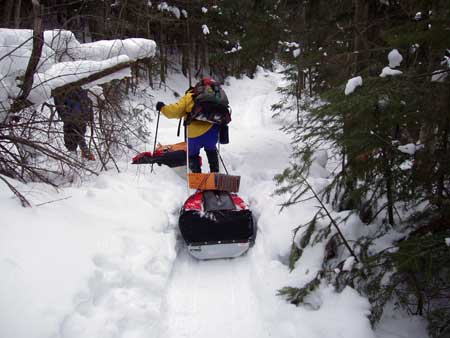 Those are our priorities when choosing or recommending outdoor equipment, camping gear and clothing for our trips. Adirondack All Seasons Guide Service provides complete to partial outfitting for hike, backpack, paddle, camping, and snowshoe trips. For folks who are considering future gear purchases...consider allowing us to provide gear for the trip BEFORE purchasing anything. Our equipment and gear is lightweight and high quality. We enjoy sharing what we have learned over the years with the hope of saving you money by alleviating unnecessary purchases. Of course, those with their own gear are welcomed to use such if they prefer.
Through preparation and packing for the trip, we will share tips and techniques for packing and fitting a backpack. The weight of the packed backpack will likely range between 30-40 lbs., and depends on the weight of clothing and personal gear. Food canisters are highly recommended, required in some areas, and are best carried inside the backpack. We try to keep the pack weight as "light" as possible, yet safe and comfortable.
Items Adirondack All Seasons Guide Service is able to provide for Backpack, Hike, Camping, and Snowshoe trips:
Backpacks
Day packs
High quality ultralight 3-season tents made by MSR and Big Agnes. We have 1, 2 and 3-person 3 tents weighing 5 lbs. or less. Our 2 and 3 person models have 2 doors making entry and exit easier for 2 people.
We recommend that guests provide their own sleeping bag. Sleeping bags can be provided, if necessary, for an additional cost.
Tarps with ties
Therm-a-rest Z-Lite closed cell sleeping pads
Therm-a-rest Pro-lite 3 inflatable sleeping pads
JetBoil personal cook systems (includes stove, fuel & liter size cup for heating water)
Food canisters
Water filters
MSR snowshoes & poles
Items Adirondack All Seasons Guide Service is able to provide for Canoe trips:
Hornbeck Boats solo canoes (weighing <12-18 lbs.)
Werner Kalliste carbon composite paddles (25 oz. kayak paddle)
PFD (personal floatation device/life vest)
Day pack (to carry extra clothing, food and gear makes portages along the journey easier)
Small dry bag
Small boat towel
NOTE: All paddlers are required to wear a properly fitted PFD while on the water, regardless of swimming ability.
A group first-aid kit (things for emergency situations only) is provided for each trip. This kit will NOT contain items guests are asked to bring in a personal first aid kit (ie. items for blisters, small cuts, scrapes, or pain)
Guest personal first aid kits should include:
A few Band-Aids of different sizes
Adhesive or sport tape (I carry a small supply of duct tape)
A variety of safety pins
Personal medications including ibuprofen, Tylenol & an antacid
Moleskin or other items for blisters (duct tape for blisters is NOT recommended)
Small scissors
Feminine hygiene products, if necessary.