About The Adirondack Park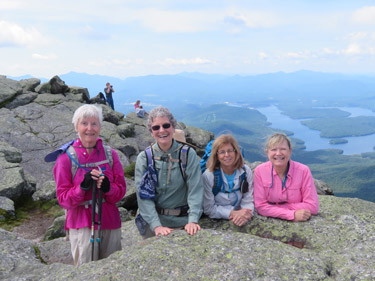 New York State's Adirondack Region
...Outdoor recreational opportunities abound for people of any interest or ability...
...2,000 miles of hiking trails to explore with routes ranging from challenging mountain treks to easy afternoon strolls...
...Hundreds of miles of canoe routes composed of lakes, ponds, rivers, streams, bogs and waterfalls, many of which are restricted to non-motorized boating...
Upstate New York 's Adirondack Park is the most unusual park in the United States. The Adirondack Park is a varied place; untouched forests mirrored in thousands of ponds and lakes; quiet Wilderness trails; mountains with spectacular views; sparkling streams and long quiet waterways; rich timber producing lands; small communities nestled in deep mountain valleys; and many resorts close to natural wonders.
The park covers six million acres- an area larger than the Grand Canyon, Yellowstone, and Yosemite combined. Nearly half of the Park is forest preserve, land set aside to remain in its natural state. The Adirondack Park was created in 1882 by the New York State Legislature, which enacted measures that guarantee public lands will remain forever wild. It was the first great preserved Wilderness. The region was the wellspring of some of the country's first outdoor magazines, as well as hiking and paddling clubs. Even the rustic architecture of ranger stations and hunting lodges was first developed in the Adirondacks.
Interstate Rt. 87 passes through the Adirondack Park along its eastern side, originating in the Albany area and continuing north to the Canadian border, but there are over 40 other roads entering the park as well. As a result, there is no "entrance gate," and no admission fee. (Fees apply at state campgrounds, but hiking, canoe and boat access on state lands are free.)
The Park itself covers a fifth of New York State making it the size of the state of Vermont, with a structure unlike any other state or national park in the nation: it is a patchwork of public and private lands. More than 40 state-operated campgrounds, 2,000 miles of hiking trails, hundreds of miles of canoe routes and 43 peaks taller than 4,000 feet entice travelers from all over the world. Two peaks, Marcy and Algonquin, are higher than 5,000 feet. The park supports 500,000 acres of true old growth forest. Of this, 200,000 acres have never been logged.
Adirondack forests are comprised of hardwoods and softwoods, including maple, black cherry, beech, birch, balsam fir, hemlock, Scotch, white and red pine and spruces of several varieties. Woodland wildflowers such as the ostentatious lady slippers bloom in the spring, while many waterways are graced with white and yellow water lilies throughout the summer. There are several Alpine summits in the Adirondacks where rare plants thrive under adverse conditions. Hikers are expected to stay on paths or bare rocks when visiting these summits.
The Adirondacks are home to black bears, white tailed deer, occasional moose, common loons, mergansers, bald eagles, peregrine falcons, osprey, great blue herons, ducks, turkeys, owls, woodpeckers, jays, chickadees, beavers, coyotes, raccoons, fishers, bobcats, river otters, mink, red squirrels, eastern chipmunks, brook and lake trout, bass, pike, bullhead, locked salmon and more.
The Adirondack mountains are part of the Canadian Shield. Contrary to popular belief, these mountains are not old, "worn down" peaks, but relatively young mountains born as a result of erogeny, or uplift, followed by etching and carving by mile-high glaciers. It is theorized that there is a geologic "hotspot" beneath the Adirondacks that is causing continuing uplift. The mountains continue to grow at the rate of 1.5 millimeters annually. While the mountains themselves are young, the rock of which most are formed, Anorthosite, is among the oldest of the various types found on earth. (Note: This information was taken from various sources with much from Paul Schneider's book The Adirondacks.)
Contact us to find out about our trips. Gift Certificates are available upon request.