ADVENTURE PACKAGES
TUPPER LAKE, NY - Situated at the crossroads of the Adirondacks in Upstate New York, Tupper Lake is known for its pristine lakes, picturesque hiking trails, and friendly atmosphere. It is home to The Wild Center with its popular Wild Walk (an elevated trail across the treetops), and the Tupper Lake Triad. This is a new local hiking challenge that was started in 2015. This quaint destination has a variety of restaurants, lodging accommodations, two breweries, an observatory, and unparalleled outdoor recreation opportunities for exploration. During the winter season, this Adirondack playground comes to life with a multitude of opportunities to connect with nature and enjoy the outdoors.
With so much to do and see in this four-season Adirondack get-away destination, Adirondack All Seasons Guide Service began meeting with other Tupper Lake businesses to come up with a variety of Stay 'n Play Adventure Packages. Click here to see our participating Business Partners and what they have to offer to enhance the Stay 'n Play experiences.
Stay 'n Play Adventure Packages require 1) A minimum one night's local lodging stay and 2) One guided day trip adventure through Adirondack All Seasons Guide Service. Package options include passes to The Wild Center, discounts, specials, and unique opportunities at participating restaurants, eateries, and other local businesses. A popular option is a visit to Raquette River Brewing to sample their brews. You decide how long you would like to stay, choose the outdoor activities you would like to partake in, and any other package options as they become available. We are in the process of working out details for various packages and expect to have more information available soon.
---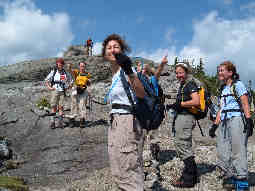 Hike 'n Stay Packages A myriad of hiking options for folks of all ages to choose from... Meandering trails through varied forests, along the shores of beautiful waters, to cascades and waterfalls... Mountain hiking to the summits of the family friendly Tupper Lake Triad peaks, Saranac Lake 6ers, 46er High Peaks and a multitude of other peaks that are not included in the previously named Adirondack peak challenges.


---

Paddle 'n Stay Packages We are surrounded by a multitude of lakes, rivers, ponds, and streams... So many possibilities for canoe & kayak excursions... Ultra light Hornbeck Boats available and often included for pond hopping and canoe trips to more remote waters.


---

Fly Fish 'n Stay Packages Professionally guided fly fishing experiences along the West Branch of the Ausable River, about a 50 minute drive from Tupper Lake. Trips can be arranged for the Saranac, Schroon and Boquet Rivers also. NYS licensed guide, Rich Redman, will share about stream ecology, geo-morphology, and bio-engineering, along with fly tying, casting and fly fishing during these outings.


---

Winter Play 'n Stay Packages Snowshoe, winter hike, X-C ski, and winter camping experiences... Tackle the Tupper Lake Triad peaks in the winter... Try a night of winter camping.


---

For questions, to check on availability, and to make reservations: Email us or call 518-359-7536. Please be prepared to leave a message if we are not able to take your call. Thank you.