ABOUT Adirondack All Seasons Guide Service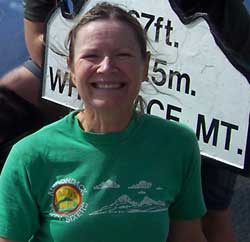 Peggy is a passionate outdoorswoman who discovered the Adirondack over 30 years ago. She moved to the Adirondacks soon after she started hiking the 46 High Peaks in 1987. She became a 46er #2857 in 1990 after climbing 33 of the 46 High Peaks in just 5 months. In 1996, Peggy discovered the wonders of 4 season climbing and completed her first round of the 46 peaks in calendar winter in 1998. She will tell you that snowshoe climbing is her favorite outdoor activity! She has been leading hiking trips for her local Adirondack Mountain Club chapter since 1995. Peggy is featured in and wrote a chapter for the book, "Women with Altitude," about the women who climbed the 46 High Peaks in winter during the canister era. She was also featured in a NY Times article about winter hiking. Peggy has mentored and guided many people to their goals of climbing the 46 High Peaks in both summer and winter seasons, achieving the Tupper Lake Triad, Saranac 6ers, Lake Placid 9ers and even the summit of Kilimanjaro in Africa. She also has guided canoeing and camping trips. She is as patient as she is enthusiastic about sharing her passions with her clients.
Peggy believes in giving back to the wilderness she loves by volunteering doing trail work with both Adirondack Mountain Club and the ADK 46ers, as well as being a trail and lean-to adopter, volunteering with Leanto Rescue, and volunteering extensively at John's Brook Lodge for Adirondack Mountain Club. She has served on the Boards of both Adirondack Mountain Club and ADK 46ers. She is educated in Leave No Trace ethics. Peggy seeks to live a wholesome, more eco-friendly lifestyle. Through the operation of Adirondack All Seasons Guide Service, Peggy hopes to:

Share what she has learned that allows her to enjoy more peace, joy, patience and contentment in her daily life.
Provide opportunities for others to experience renewal and refreshment while spending time in the outdoors.
Help others enjoy the many gifts the natural world offers while maintaining such for future generations.
Reside in and continue to call the Adirondack Park her home.

Peggy has hiked in many National Parks in the US and Canada and has traveled to hike in many of the world's most famous areas such as New Zealand, the Everest Base Camp region in Nepal, the Blue and Snowy Mountains in Australia and the Inca trail in Peru. She has also organized 4 climbing expeditions to Mt. Meru and Kilimanjaro as well as safari trips to the Serengeti and other national parks in Tanzania. She has climbed all 115 of the 4000 foot mountains in the NorthEast, (Maine, New Hampshire, Vermont and New York states), only the 36th person to do so! When Peggy isn't hiking, paddling, skiing, snowshoeing or traveling, she sings in the Northern Lights Choir and works as a dental hygienist.
PHILOSOPHY AND MISSION OF Adirondack All Seasons Guide Service:
The guides & partners of Adirondack All Seasons Guide Service believe that good preparation along with knowledge of how to preserve our wilderness areas, are crucial elements for an enjoyable and safer wilderness experience. Adirondack All Seasons Guide Service provides educational backcountry experiences, which enhance wilderness ethics and outdoor skills. We teach, practice and promote personal safety, wilderness skills, green principles and responsible recreational usage employing the "teachable moment" philosophy as opposed to "lecturing." The outdoors is our classroom and we believe people learn best through hands-on experience. We tend to be creative, caring, flexible and adventuresome!
Adirondack All Seasons Guide Service guides & partners have a wealth of knowledge and experience to share. Many tips and tricks have been learned over the years which allow us to provide more comfortable experiences for those we take into the wilderness. We strive to accommodate people of all levels of experience, specializing at the beginner and novice levels. We enjoy sharing time with singles, couples/partners, women and small groups... practically anyone desiring a more intimate, personalized, informative and satisfying wilderness experience!
Though we are most familiar with the High Peaks, Northern, Central and Eastern Adirondack regions of New York, and we also have a extensive experience leading trips in Tanzania, Africa such as our Kilamanjaro climbs and Serengeti safari expeditions.
GIFT CERTIFICATES
A gift idea for any occasion...
Not sure what to do for that special someone? We'd be happy to give you some ideas!
A gift certificate is a wonderful way to share beautiful places or create special memories with others!
Gift Cards & Gift Certificates Available
Gift Card - Decide the amount you would like to give. That amount becomes the cash value of the card. The recipient can then apply that amount toward the cost of any Adirondack All Seasons Guide Service trip or Service they desire.