165 Elm Street
Lake Placid, NY 12946
(518) 523-1341 (tel) · (860) 713-8205
www.adkallseasonsguideservice.com
trips@adkallseasonsguideservice.com

Things we do for ourselves are gone when we are gone. The things we do for others remain as our legacy.
Welcome to Adirondack All Seasons Guide Service. We invite you to join us in our travels, where ever they may take us.
We welcome outdoor enthusiasts - both beginner and more experienced - Adirondack Canoeing, Kayaking, Adirondack Camping, Hiking, Backpacking, Snowshoeing, Ice Fishing experiences. We design custom trip packages based on the individual and group interests, needs, desires and comfort levels.
Adirondack All Seasons Guide Service is a year-round, woman owned operated trip planning service providing small group, family or individual outdoor adventures. Located in the scenic village of Lake Placid, we offer guided hiking, canoeing, xc skiing, snowshoeing, lake fishing and ice fishing trips in areas around Tupper Lake, Saranac Lake and Lake Placid for over 20 years. We cater to both inexperienced and experienced outdoor enthusiasts, individuals, groups and families. We can help you with Becoming an Outdoor Woman, Tupper Lake Triad hikes, Saranac Sixer hikes and the 46 High Peaks as well as discovering some wonderful places to paddle on lakes or rivers. Peggy is also an international travel guide. She has trekked in New Zealand, Nepal, S America, Australia, been to Antarctica and has led 4 expeditions to Kilimanjaro in Tanzania, Africa, as well as organizing annual safari trips to the Serengeti.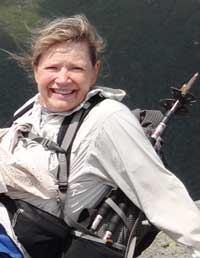 Peggy MacKellar, NYS licensed guide #7650, is the lead guide for all international trips and most of the hiking, xc skiing and snowshoeing trips. She has been guiding since 1995. She will customize your itinerary according to the abilities and trip participants' desires. She will also help plan your gear and will be with you throughout your adventure. She can lead you to stunning summits on one of the 46 High Peaks in any season including winter, a hike along a river to a beautiful waterfall, or show you a peaceful canoe route to a lakeside campsite. She works well with children as well as adults.
Whether you are a seasoned outdoorsman/woman, you want to experience and learn something new, or you want the introduce your children and family to the outdoor life, we invite you to join us. Step into the woods and experience the fantastic fishing, hiking, camping and canoeing opportunities in the 6 million acres of the Adirondacks. It will be our privilege to personally, professionally and expertly guide your experience and connection or reconnection to power of nature. Sharing outdoors adventures with family and friends will always leave you a little more centered, balanced and mentally healthy. Enjoy learning about Leave No Trace, Becoming an Outdoor Woman and Forest Bathing with us.
Adirondack All Seasons Guide Service offers guided hiking, camping, canoeing and fishing trips in the Adirondacks under the licensing and regulation of the NYS DEC, the code of ethics of the New York State Outdoor Guides Association and in the grand tradition of the original Adirondack guides by offering Adirondack hospitality through sporting adventures in the Adirondack wilderness.
Owner and lead guide, Peggy MacKellar, strives to provide personalized, memorable, informative and satisfying experiences for all who share time with us outdoors. Peggy enjoys sharing her passion, experience and favorite places with those willing to spend time with her. She will be with you each step and stroke throughout your journey. Peggy's passion is foot bound wilderness exploration, especially in areas she has yet to experience. She prefers taking "lesser traveled paths" and opts for more remote areas when she has the option. For paddle trips she prefers calm, more secluded waters (small ponds, streams, rivers and marsh areas), where there is often abundant wildlife. She revels in the serenity and beauty the flora, fauna, mountains and waters provide.
Peggy prefers to "live simply" and spend her time showing others how to seek a more peaceful existence in the outdoors. She has worked informally with people of all ages in outdoor-related endeavors since 1996 and looks forward to serving you!
Days and hours of operation: The days and hours we can be reached vary due to the nature of our business. Email and phone messages work well for us. We appreciate phone calls between the hours of 8:00am-8:00pm.
Adirondack All Seasons Guide Service
You are the visitor. Thank you for stopping by.