Guided Adventure Trips for Women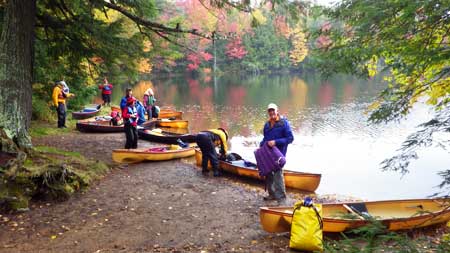 Women Outdoor Adventure Excursions
Women's Spring Backpack Trip for Beginners - Raquette Falls
This 3-day trip is good for beginners and those who just want to get away where it's quiet for a bit. The trip is planned as a moderate, leisurely paced hike to the Raquette Falls area with plenty of time to stop & smell the roses... okay, maybe the trillium. No mountains to climb on this trip, just a hill or two to walk up as we get nearer the falls. This trail is generally dry and "snowless" this time of year, and with the higher water levels that usually accompany spring in the Adirondacks, this is a good time to visit the falls. The leaves should be just coming out and a variety of spring flowers should line the trail. We do not expect to see many people in this area at this time of year. Lightweight backpacks, personal cook systems, camping gear (excluding sleeping bag) and trail meals are provided. Guests are welcomed to bring their own gear & meals if they prefer. We plan to meet at our home base location near Tupper Lake at 8:00 AM on Day 1. After packing we'll head off to the trailhead in Coreys (15-20 minute drive). We'll hike in approximately 4 miles with hopes of camping on a beautiful hemlock bank overlooking the Raquette River. We will set up camp for 2 nights. Day 2 we will hike to Raquette Falls exploring the area along the river between the Upper & Lower Falls. Then we'll head off to Dawson Pond, a little gem in itself. Day 3 we will enjoy breakfast and the quietness of the river before packing up to pack out to our vehicles. Expect to depart from our location mid-afternoon on Day 3. Space is limited to 6 people. Cost: $420/person. Click here to reserve a space for this trip.
---
Women's Spring Paddle & Hike Weekend - Tupper Lake, NY
We welcome you to join us for a weekend of leisurely paced spring hiking and paddling from our home base in the beautiful Adirondacks. Our weekend package includes lodging, home-cooked meals, guided day hike and paddle trips, Hornbeck Boats & paddling gear... everything you will need for an enjoyable getaway! We encourage you to reserve your space well in advance since lodging reservations must be made for the weekend. Thank you. Contact us if you would like more information.
---
Women's Canoe Camping Trips - Long Pond in the St. Regis Wilderness
This overnight experience offers two days of leisurely paddling and camping with optional hiking. The trip location is planned for Long Pond in the St. Regis Wilderness, a peaceful area where loons reside. This is a good trip for beginning canoe campers and paddlers, as well as those with experience. First timers are very successful with our canoes! We'll provide Hornbeck solo canoes, paddling gear, camping gear (except sleeping bags) and meals (Day 1 lunch - Day 2 lunch) for this guided paddle adventure. Not familiar with Hornbeck canoes? Visit Hornbeck Boats online. They are the lightest boats available, are paddled like a kayak and weigh 12-16 lbs. A real treat to paddle! Trip is limited to 4 women. Minimum of 2 necessary to confirm this trip so bring a friend! Please make reservations well in advance. Thank you. Cost: $300/person. Click here to reserve a space for this trip. Contact us if you would like information.

---

Canoe Camping Trips for Women - St. Regis Pond
We invite you to join us for some time exploring and meandering through the St. Regis Wilderness. This area is comprised of a variety of glacial ponds with short portage trails connecting the ponds. Each pond has a different character. St. Regis Pond is quite scenic sitting at the base of St. Regis Mt. We plan to camp for two nights on St. Regis Pond and will offer opportunities for day trips to other ponds in the area. Bird life we generally observe in this region include eagles, loons, osprey, herons and merganser families. Excursions from St. Regis Pond allow exploration of Ochre, Green, Little Long and Bear Ponds. There are opportunities for optional hiking also. We'll travel at a leisurely pace enjoying all there is to see and experience along the way. We provide the perfect boats for exploring this area, the lightest boats in the woods actually at 12-16 lbs. They are fun to paddle and easy to portage... making the many ponds in this area much easier to explore! Canoes, paddling gear, camping gear (except sleeping bags) and meals (Day 1 lunch - Day 3 lunch) will be provided for this guided paddle adventure. Space is limited to 4 women. Minimum of 2 necessary to confirm this trip so bring a friend! Please make reservations well in advance. Thank you. Cost: $420/person. Click here to reserve a space for this trip. Contact us if you would like more information.

---

Leaf Peepers Paddle & Hike for Women - Tupper Lake, NY
We welcome you to join us for a weekend of leisurely paced autumn hiking and paddling from our home base in the beautiful Adirondacks. Our getaway package includes lodging, home-cooked meals, guided day hike and paddle trips, Hornbeck Boats & paddling gear... everything you will need for an enjoyable getaway! We encourage you to reserve your space well in advance since lodging reservations must be made for this event. Space is limited to 6 women. Minimum of 3 necessary to confirm this event so bring a friend! Thank you. Contact us if you would like more information.

---

Women's Backpack Trip - Pharaoh Lake Wilderness
Oct 6-9, 2017
Female camaraderie on the trail for a few days of backpacking in the eastern Adirondacks during the fall foliage and NO BUG season. This 4-day trip is quite scenic with optional opportunities to explore an area that once supported sawmills, graphite mines and tanneries after the Revolutionary War. Glaciers carved out this area leaving sharp cliff faces and valleys filled with beautiful glacial ponds, marshes and sandy soils. Forest fires have also left their effect on the area. The terrain for this trip will be moderate with optional side trips as time allows. We anticipate that the foliage could be near peak at this time. This is a beautiful area to spend a few days (one of those that you wish others didn't know about). The pace will be leisurely allowing time to enjoy the wonderful views along the way. The daily backpack distances will be between 6-10 miles. This trip is intended for stronger hikers and backpackers capable of carrying 30-35 lbs. for many miles. Lightweight backpacks, personal cook systems, camping gear (excluding sleeping bag) and trail meals are provided. Guests are welcomed to bring their own gear & meals if they prefer. We plan to meet at our home base location near Tupper Lake at 7 AM on Day 1. We expect to depart for the 1:30 drive to the Pharaoh Lake trailhead as soon after packing as possible. Space is limited to 4 women. Minimum of 2 people necessary to confirm this trip so bring a friend! Please make reservations well in advance. Thank you. Cost: $520/person. Click here to reserve a space for this trip. Contact us if you would like more information.

---