Testimonials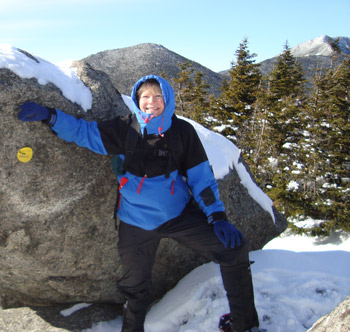 Peggy's guidance enabled me to complete all Adirondack 46ers Peaks during winter hiking. Peggy can fit your experience to your ability and assure a safe NYS Certified Guide hike filled with scenic vistas and wildlife opportunities. Whether your goal is an Adk peak or Kilimanjaro, Peggy has done them all, and can help you find excitement on the trail. In addition to all season hiking with international flair, I can tap Peggy's expertise for Nordic skiing and paddling adventures!
- Beth, 2013 Kilimanjaro expedition, 2014 Winter 46er
---
Last winter, my wife and I went on a safari trip to Tanzania led by Peggy. All the lodging, food and itinerary were all arranged ahead of time and we did not have to worry about anything. The safari was the highlight of the trip and was totally amazing. Our local guide had an encyclopedic knowledge of all of the animals and birds that we saw and happily explained everything to us. Although the safari was the focus of the trip, we also got to meet local people and get a feel for the country. Incredibly the price for all this was quite reasonable.
- Jim, 2019
---
Peggy took my grandson and I on a guided kayak trip on the Raquette River via "The Crusher". It was an amazing day! It was the first long paddle he and I had been on and we were in an area we weren't familiar with- hence the need for a guide. Peggy was reassuring, knowledgeable and a great instructor for newbies like us. She took us on a lazy paddle up river where we stopped for lunch. She shared stories of her experiences in the Adirondacks as we paddled and when our trip was over we felt like we had made a new friend. We will definitely paddle with Peggy again.
- Tracy, Oct 2019
---
I cannot imagine a better guide for a hiking trip than Peggy. Her cheerful support and encouragement helped me to achieve hiking goals that I did not think were possible for me. She is knowledgable, capable and always sensitive to the goals and abilities of those in her group. I was fortunate to have her by my side as I worked to become a 46r.
- Carol, 46r finisher 2014, safari participant 2019
---
I cannot recommend Peggy Mackellar enough! She is one of the best guides I've had the pleasure to hike with. In addition to being very friendly and fun to hike with, she is an expert in her field and very knowledgeable. You won't regret a hike with Peggy.
- Rekha, 2018
---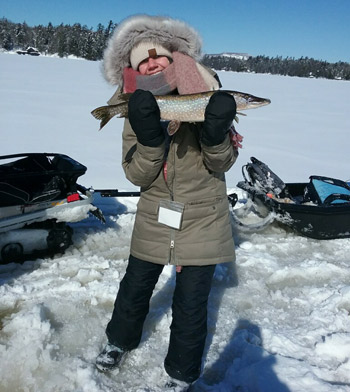 Ice Fishing... When I told my friend that I was going ice fishing, his comment was, "Ice fishing is like watching grass grow."
How do you describe the excitement you feel when there's the tug on the end of your gig rod, or witnessing the tip up flag go up? The anticipation and excitement of seeing your fish emerge thru the hole. Whether it's a small perch, large pike, the elusive walleye or tiger musky. That's the surprise.
Rich has taught me that ice fishing is much more than catching fish. It's spending a day relaxing in the beauty of the Adirondack mountains, listening to the quiet sounds of nature, watching the occasional wildlife wonder by.
Ice fishing is NO comparison to watching grass grow.
- Paula, 2019
---
Richard was awesome, very informative and really helped us understand everything that goes into ice fishing. I give him a ton of credit since the weather was SO COLD! He still made the experience a ton of fun and answered all of our questions! We can't wait to book another trip. Thank you so much for helping me plan this!
- Kelsey, Feb 2020
---
Articles written by or published about Peggy MacKellar.
Book "Women With Altitude" by Carol Stone White, 2005.
Adirondac, "Volunteer Extraordinaire", Mar/April 2019
Adirondack Explorer, "Winter Hiking Gear" winter 2000
NY Times, "Conquering 46-Part Goal", March 29, 2010
Lake Placid News, "In and Out of Africa", Nov. 3, 2016
---