Backpacking Trips, Locations & Pricing Information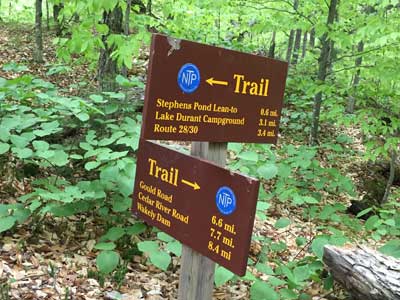 Adirondack All Seasons Guide Service plans and leads a variety of lightweight backpack trips accommodating backcountry enthusiasts of all experience & fitness levels. Our backpack adventure packages range from 2-5 days in length. Longer treks can be arranged as well. Choose from a variety of our scheduled backpack trips or contact us to make arrangements for your own excursion in an area you are interested in exploring. We provide lightweight camping gear & meals for trips. Guests are welcome to bring their own gear if they prefer. We do not normally provide sleeping bags, though they are available for an additional fee. Secure parking & transportation to the trailhead is often included in trips originating from our home-base location in the Tupper Lake area. Backpacking packages can include lodging with dinner the night prior to your trip and breakfast the morning of departure. Lodging accommodations may also be available for those who would like to stay the night they return from a trip. These services make things more convenient for folks who travel a great distance for trips. Trip photos can be available for viewing, sharing and downloading after your trip if desired.
We sometimes offer a backpack opportunity along the Appalachian Trail during later April and October in Virginia, Tennessee, or states north of these. These are usually 4 or 5 day trips of moderately paced backpacking. The average distance hiked each day is 6-8 miles for spring treks and 8-12 miles during the fall season. Adirondack All Seasons Guide Service also leads occasional trips in Pennsylvania's Pine Creek Canyon region (including the very scenic West Rim Trail), and along the Appalachian Trail in Vermont, New Hampshire, and Maine.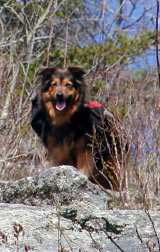 Since we are Adirondack-based, we offer a variety of Adirondack trips May through October. The northern most sections of the 132-mile Northville-Placid Trail are in our "neck of the woods." One of our favorite backpacks is along a section of the NP trail that passes through the remote and very scenic West Canada Lakes and Cedar Lakes area. A newly constructed trail system (2009), referred to as the Cranberry Lake 50 (a collection of trails that forms a 50-mile loop around the Adirondack's third-largest body of water), is also nearby. This trail system provides foot access to the Cranberry Lake Wild Forest and Five Ponds Wilderness areas. The Pharaoh Lake Wilderness, located in the eastern part of the Adirondack Park between Lake George and Schroon Lake, is another of our favorite backpacking areas. This area boasts "the highest concentration of crystal clear lakes and ponds" accessible by foot, "each pond having a special character created by varied waterfronts, rock ledges, and quiet coves, and each has a unique vista of mountains, cliffs, and wooded shorelines" according to Barbara McMartin. The mountains in this wilderness area were all scraped by glaciers to produce their current shapes and landscapes. The popular Adirondack High Peaks and surrounding areas are nearby also. A few areas for our beginning overnight backpack trips include Raquette Falls (on the Raquette River near Tupper Lake), Winding Falls (on the Bog River), Wanika Falls (near Lake Placid) and the Henderson Lake area in the southern High Peaks area near Newcomb. Side trips to the Preston Ponds and Indian Pass are easily incorporated into this experience.
Snow generally leaves the lower elevations by mid-April and the higher peaks by early May. The foliage (and unfortunately, the blackflies also) begin to come out in mid-May. We encourage early May trips for those who enjoy early spring hiking and beautiful views. May is also a good time to enjoy the areas that are heavily populated during July & August. Many people enjoy the splendor associated with changing leaf colors in the Adirondacks so we offer trips in later September & throughout October. Those new to backpacking may prefer to backpack to an area, set up a base camp and do day hikes and explorations from their campsite.
We will gladly create a trip that fits your schedule. It is highly recommend that you contact us 6 or more months in advance to check on availability & to reserve time that is convenient for you for your trip. Partial to complete outfitting is available, as is lodging and transportation, if necessary. Consider joining us for some time away from the hustle & bustle of life. There's more to experience than a day hike can provide, like a sunrise across a mist covered pond or the evening call of a loon. So much to enjoy... so little time...
Choose one of our scheduled backpack trips or allow us to customize a trip that's perfect for you. The possibilities are endless!
We offer occasional guided group backpack trips. You will find them on our UPCOMING ADVENTURES schedule. CLICK HERE FOR our UPCOMING ADVENTURE SCHEDULE.
---
GUIDED ADIRONDACK BACKPACK TRIP RATES:
GROUP Guided Backpack Trips - for our SCHEDULED GROUP trips: We only require a minimum of 2 people to run our SCHEDULED GROUP backpack trips so BRING A FRIEND!
Maximum group size is 4 people.
Should the trip minimum not be met, we would be happy to arrange a private trip for you.
We provide high quality, light weight camping gear and our standard camping meals choices for these trips. TWO DAY GROUP TRIP - Beginning at $300/person
THREE DAY GROUP TRIP - Beginning at $420/person
FOUR DAY GROUP TRIP - Beginning at $520/person
FIVE DAY GROUP TRIP - Beginning at $600/person

---

CUSTOM Guided Backpack Trips - arranged upon requests: Plan A Trip form We will gladly arrange private trips at a time that works in your schedule based on our availability.
We prefer to keep the maximum group size at 4 people. We will accommodate up to 6 people if necessary for private parties.
High quality, light weight camping gear and our standard camping meals choices are included for these trips.
Feel free to provide your own camping gear and/or meals for your trip. TWO DAY CUSTOM TRIP - Beginning at $350/person for 2 people; $100 each additional person up to 4 people.
$600 for 1 person.
THREE DAY CUSTOM TRIP - Beginning at $487.50/person for 2 people; $150 each additional person up to 4 people.
$825 for 1 person.
FOUR DAY CUSTOM TRIP - Beginning at $600/person for 2 people; $200 each additional person up to 4 people.
$1,000 for 1 person.
FIVE + DAY CUSTOM TRIP - Beginning at $137.50/person/day for 2 people; $50 each additional person/day up to 4 people.
$225/day for 1 person.

---
Adirondack Backpack Adventure Areas
Pharaoh Lake Wilderness
Northville-Placid Trail
West Canada Lakes Wilderness
Cranberry Lake 50
Cranberry Lake Wild Forest
Five Ponds Wilderness
Raquette Falls
Wanika Falls
Bog River & Round Lake
Henderson Lake, Preston Ponds & Indian Pass
High Peaks Region
Pennsylvania's Pine Creek Canyon Area
West Rim Trail
Appalachian Trail Backpack & Hike Trips
Shenandoah National Park, Virginia
Mt. Rogers & Grayson Highlands, Virginia