Multi-Sport Trips
Trips in the Adirondacks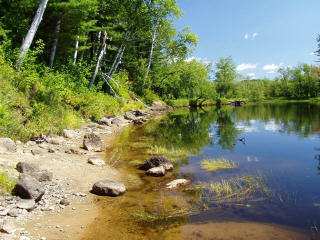 Essex Lakes Canoe & Bike Camping Trip - (ultra-light Hornbeck Boats provided for these trips)
Arranged upon request
The Essex Lakes offers opportunities for paddling, camping, biking, horseback riding and hiking. The area is remote, scenic and peaceful. The ride in to the access for the lakes is a long one! Spending a night or two allows more time to explore the beauty of the area. We have enjoyed viewing loons, beaver, deer and a variety of flora on previous trips. We are adding the option of biking for this trip. Bring your own bike or rentals are available from Cloud-splitter Outfitters in Newcomb. We will take care of obtaining the camping permit and provide Hornbeck Boats plus whatever else is necessary for camping gear and meals. Space is limited to 4 people per trip. Contact us for more information, meet location or with any questions you may have.
Putnam Pond & Treadway Mt. Paddle & Hike Overnight Camping Trip
Arranged upon request
This weekday trip offers opportunities to visit a few glacial ponds by boat and foot and hike a mountain offering wonderful views in the beautiful Pharaoh Lake Wilderness area. The itinerary includes a paddle around Putnam Pond before heading over to Clear Pond for the night. On day 2, those who would like to take the < 5-mile RT hike up Treadway Mt. will have the opportunity to do so. Treadway Mt. is a unique mountain with large open spaces and good views. Other hiking options include visits to Rock & Little Rock Pond and the site of an old graphite mine. This is a scenic area and travel will be leisurely allowing time to enjoying all there is to see and experience along the way. paddling gear, lightweight backpacks, personal cook systems, camping gear (excluding sleeping bag) and meals are provided for this trip. We haven't worked out the actual meeting location yet but are considering the Schroon Lake or Putnam Pond Campground area at 8 AM on day 1. Space is limited to 6 people. Contact us for more information or with any questions you may have.
Contact us to check on availability and for more information. Our Trips make wonderful gifts!! Gift Certificates are available upon request.