Backpacking Trips in the Adirondacks
Cranberry Lake 50 Trail
We will gladly accommodate "private" trip requests as we are able. If you are interested in the possibility of a trip during a different time frame or exploring others destinations, please submit a Plan A Trip form. Be aware that the trip dates below may disappear as "something else" comes up if no reservations have been made for a particular trip. We encourage you to make reservations well in advance for any trips you are interested in. Space is generally limited to 4 people per trip. Please note that a minimum of 2 people are necessary to confirm these trips.
We encourage folks to arrive the afternoon prior to the trip to pack so we can get an earlier start in the morning. We are able to offer a bed & breakfast package to those who make overnight accommodations through us for the night prior and/or the evening we come off the trail. We have an arrangement with The Timber Lodge located a mile from our home base. Please let us know in advance if you would like help with overnight accommodations.
Contact us for more information or with any questions you may have.
---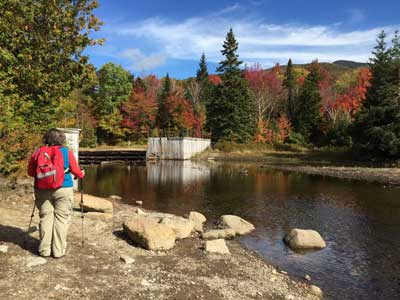 Cranberry Lake 50 Backpack Trip
UPON REQUEST The Cranberry Lake 50 is 50+ mile loop that circles Cranberry Lake, the third largest lake in the Adirondacks. It offers a wilderness experience with nice scenery, mountains, ponds, streams, and rivers. There are several side trips along the way including High Falls and Cat Mt. This is planned as a leisurely paced 5-day trek. Expect the terrain to be undulating with gentle to moderate grades. There are optional side trip explorations if time allows. Summer treks offer opportunities for a refreshing dip or swim along the way. The daily backpack distances are planned to be 9-12 miles. This trip is best for stronger hikers and backpackers capable of carrying 30-35 lbs. for many miles. Lightweight backpacks, personal cook systems, camping gear (excluding sleeping bag) and trail meals are provided. Guests are welcomed to bring their own gear & meals if they prefer. We plan to meet at our home base location near Tupper Lake at 7 AM on Day 1. We expect to depart for the 40-45 minute drive to the Cranberry Lake trailhead as soon after packing as possible. Space is limited to 4 people. Cost: $600/person. Click here to reserve a space for this trip.

---

Cranberry Lake 35 Backpack Trip
Sept 28-Oct 1, 2017 This is a shorter 35-mile 4-day loop trip that circles Cranberry Lake. The Cranberry Lake 50 is a 50+ mile trail around the third largest lake in the Adirondacks. Though this trek is a bit shorter, it offers a wilderness experience with nice scenery, mountains, ponds, streams, and rivers... with the added bonus of changing foliage and very few bugs. There are several side trips along the way including High Falls and Cat Mt. The terrain for this trip will be gentle to moderate with optional side trips as time allows. The pace will be leisurely with daily backpack distances between 8-11 miles. This trip is best for stronger hikers and backpackers capable of carrying 30-35 lbs. for many miles. Lightweight backpacks, personal cook systems, camping gear (excluding sleeping bag) and trail meals are provided. Guests are welcomed to bring their own gear & meals if they prefer. We plan to meet at our home base location near Tupper Lake at 7 AM on Day 1. We expect to depart for the 40-45 minute drive to the Cranberry Lake trailhead as soon after packing as possible. Space is limited to 4 people. Cost: $520/person. Click here to reserve a space for this trip.

---