Multi-Sport Trips in the Other Destinations
Pine Creek Canyon Backpack & Hike Trip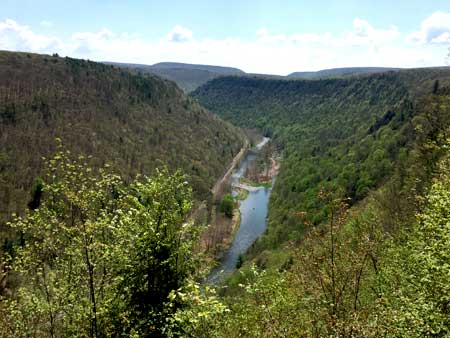 Pine Creek Spring Multi-sport Trip Backpack & Bike - Pennsylvania's Grand Canyon area
April 26-29, 2017 (4-days/3-nights)
We invite you to join us for a multi-sport backpack and bike experience in northern Pennsylvania. The backpack trip will be along a scenic section of the West Rim Trail which is claimed to be the "Best Hike in Pennsylvania" by Outside Magazine. The pace will be leisurely allowing time to enjoy the wonderful views from the many view points along the way. The biking will be on the Pine Creek Rail Trail through Pine Creek Canyon. Our plan is to backpack 2-1/2 days and bike 1-1/2 days with camping throughout the trip. We will have vehicle support for the bike portion allowing us not to have to bring our camping gear with us while biking. Expect spring conditions with early season flowers, cool temperatures, and no bugs. Space is limited to 4 people so please register early. A minimum of 2 people is necessary to confirm this trip by February 28, 2017. Thank you. Contact us for more information or with any questions you may have.