Food & Meals Information
LIGHTWEIGHT...TASTY...REPACKAGED FOR LESS WASTE...MINIMAL CLEANUP...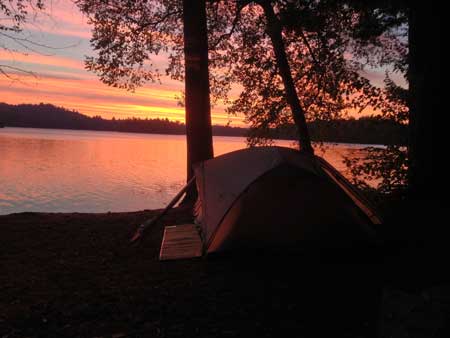 Adirondack All Seasons Guide Service is able to accommodate most dietary preferences in regards to foods and meal choices for trips...whether it be a lunch for a day trip, meals for a camping trip, or home-cooked meals for our "Soft Adventure" lodging and meals packages. We are able to provide low carb, low fat, low sugar, vegetarian, natural, organic, gluten-free & Paleo alternatives with advance notice. There may be an additional charge for organic or specialty food requests as they generally are more expensive alternatives. Please inquire about such when booking your trip.
We provide personal cook systems for our guests so all they need to bring is a mug for soup and beverages and a spoon to eat with. Foods are repackaged for the trip to eliminate excess waste and weight. Our meals method allows each person to have the foods and meals they desire, when they desire. Below are the typical foods we have available for camping trips. We will accommodate special requests as we are able and welcome suggestions for other food options that are "trail hardy."
Food & Meals Options for Camping trips:
Breakfast
Mt. House Granola pre-mixed w/ milk & blueberries (hot or cold)
Cascadian Farm Organic Granola w/ fruit & nut
Mt. House Western-style scrambled eggs (ingredients include precooked scrambled eggs, red & green peppers, ham) w/ cheddar cheese optional Gluten free
Bagel w/ cream cheese (or other spread) upon request - whole wheat, multi-grain, onion, cinnamon & raisin, everything, plain
Oatmeal w/ various dried fruits and nuts to choose from. Instant oatmeal choices include maple & brown sugar, apples & cinnamon, cinnamon spice, banana nut bread, cinnamon roll and regular flavors. We also have oatmeal with no sugar added and non-instant rolled oats.
Hard boiled eggs
Lunch:
PB & Jam sandwiches or wraps
Tuna sandwiches or wraps
Garlic or Red Pepper hummus sandwiches, wraps or with crackers
Fruit choices - apple (red or green), orange, nectarine, plum, seedless grapes, cherries, blueberries (depending on season and availability)
Pepperoni, salami, or meat sticks
Snack & Desserts:
Carrot bits - celery sticks - cherry tomatoes - broccoli (these can be used to supplement the dinner meal also)
Granola or other trail bars
Crackers: Wheat Thins - Triscuits - Cheese Nips
Pretzels
Nuts (almonds, pecans, peanuts, walnuts, cashews)
Various dried fruit (raisins, craisins, apricots, bananas, fruit blend, cherries, mixed berries)
M&Ms (plain or peanut)
Individually wrapped cheese sticks (mozzarella, pepper jack, cheddar cheese, Monterey jack)
Packaged cookies (Oreos, Fig Newtons, Rice Krispee Treats)
Dinner:
Dinner generally consists of soup, main entrée, dessert and beverages of choice (hot or cold). The dinner meals listed below are Mountain House (MH) or Backpacker's Pantry (BP) freeze dried meals. We also have Paleo freeze dried meals available upon request for an additional cost. Meals are re-packaged to eliminate waste and weight and allow each individual to have meals that appeal to them each night. Serving sizes are 8-10 oz. when prepared. These meals are light weight, nutritious, quite tasty and require very little to no cleanup. Fresh veggies from the Snacks & Dessert choices above can be used to supplement your dinner meal. Grated Parmesan or Romano cheese is also available to add to your meals. Meal choices include:
MH Chicken Teriyaki w/ rice (chicken, rice, bamboo shoots, mushrooms, red peppers, green peas, onions, green peppers, garlic powder) Gluten free
MH Mexican Chicken w/rice (chicken, white & brown rice, onions, sweet red peppers, parmesan cheese) Gluten free
MH Oriental Style Rice & Chicken (green beans, chicken, rice, mushrooms, water chestnuts, red bell peppers, teriyaki flavor)
MH Chicken Polynesian (sweet & sour sauce, chicken, pineapple & peppers, with rice)
MH Chicken & White Bean Chili (chicken, white beans, in a green chili sauce) Gluten free, Low sodium
MH Grilled Chicken Breast & Mashed Potatoes (skinless chicken breast, mashed potatoes w/ herbs & chives)
MH Turkey Tetrazzini (turkey, asparagus, spaghetti, mushrooms in a flavorful sauce)
MH Sweet & Sour Pork w/ rice (sweet & sour pork, brown rice, pineapple, green peppers, onions, red peppers, garlic)
MH Lasagna w/ meat sauce (lasagna & noodles, beef, tomato sauce, parmesan cheese) MH Chili Mac w/ Beef (beef, macaroni, kidney beans, onion, chili seasoning)
Vegetarian Meals
BP Louisiana Red Beans and Rice (red beans and rice mixed with Creole sauce) BP Pad Thai (rice noodles with a spicy, sweet, garlic sauce, textured soy protein, vegetables and roasted peanuts)
MH Pasta Primavera (zucchini, whole wheat spiral macaroni, cauliflower, broccoli, red & yellow peppers, green peas in a parmesan cheese sauce)
MH Long Grain & Wild Rice Pilaf (white, brown & wild rice, mushrooms, onions, broccoli, green beans, sweet red peppers, parmesan cheese)
MH Mashed potatoes w/ cheddar cheese & broccoli (fresh broccoli can be added if preferred)
MH Fire Roasted Vegetable Blend (fire roasted bell peppers and onions with corn and black beans) Gluten free
Soup Choices:
Lipton Cup-a-Soup flavors make a 6-8 oz serving. Flavors available:

Chicken noodle
Cream of chicken
Tomato
Spring Vegetable

Kikkoman AKA Miso RED or WHITE flavor
Dr. McDougall's soup
Beverage Choices:
Hot:
Reg OR Decaf instant coffee
Reg OR decaf black tea
Reg OR decaf green tea
Reg OR decaf herbal teas
Hot chocolate
Cold:
Gatorade flavors (1 pkg. makes a liter):
Lemon lime
Orange
Fruit punch
Glacial freeze
Riptide rush
Crystal Light & 4C Tea2Go
Green tea
Raspberry
Orange
Ice tea
Lemonade
White tea w/ blueberry

Miscellaneous Items:

Non-dairy coffee creamer (powder)
Powdered skim milk (good mixed in oatmeal or cereal)
Mayonnaise, mustard, ketchup, relish packets
Optional sweeteners:

Sugar OR brown sugar
Honey
Maple syrup