Overnight Adventure Options
Backcountry Camping...Lodging...Meals...B&B...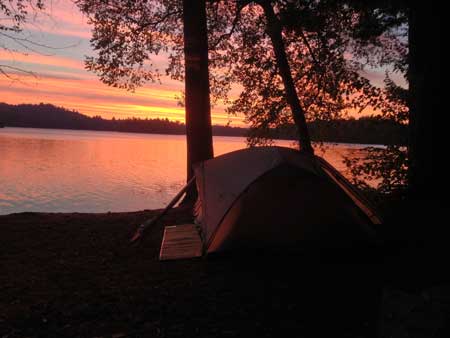 Adirondack All Seasons Guide Service specializes in unique small group outings to more remote areas. We welcome you to spend your days experiencing the serenity, beauty and wonders of creation...and your evenings in the "environment" of your choice. We provide everything necessary for "roughing it" in the wilderness with the sights, sounds & smells of the natural world. Or allow us to arrange a play and stay with the comforts of "home" (a shower, cozy bed & meals prepared for you).
We specialize in custom trip planning and work with you to create an excursion that's perfect for you! Your excursion can be a few hours to multiple days, one activity or a combination of activities, partially or completed outfitted. Let us know what you are interested in and we will do our best to accommodate you. We highly recommend making reservations 6-12 months in advance for private trip requests during the summer & fall months (July-September). Availability is often quite limited after April 30th.
It is our recommendation that guests joining us for overnight camping trips arrive the afternoon prior the trip. This allows for time to get acquainted, pack for the trip, and increases the probability of an earlier trip departure the following morning. We have partnered with a few motels around the area to provide reduced rate lodging for our B&B packages...beds at a motel and full breakfast served at our home base the following morning. We also have a guest space available for 1-2 people at our home base for folks who book trips with us. This is available on a first come, first serve basis. Please let us know if we can help you with accommodations before or after your adventure trip. We look forward to serving you!
Backcountry Camping Trips
We plan backcountry trips and assist you with all the tasks associated with hiking, paddling or snowshoeing. We help you set up your backcountry camp and show you how to prepare your meals. Or, if you prefer, we will prepare them for you. High quality, lightweight camping gear, meals, cooking gear and food canisters are provided as necessary, for camping trips.
Stay 'n Play Packages
Our Stay 'n Play packages are for individuals and small groups who desire a multiple day adventure but prefer not to "rough it" in the backcountry. Play 'n Stay packages include lodging accommodations, meals as desired, and guided day trips with day packs, canoes or snowshoes provides as necessary. We plan day trips based on your preferences and assist you with all tasks associated with a day hike, paddle or snowshoe. We provide information on what to bring, where to meet, trip details, tips for safety & enjoyment, obtaining potable water along the trail or waterway and making sure you "stay found."