Hiking In The Adirondacks: Saranac Lake 6er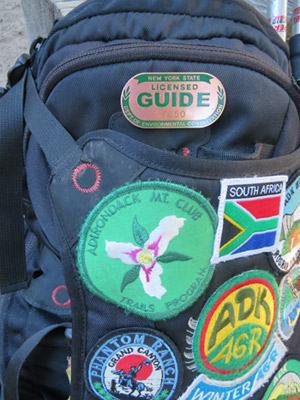 Guided Saranac Lake 6er Trips

The Saranac Lake 6er challenge has created quite a bit of interest, thanks to a tourism initiative begun by the village of Saranac Lake in May 2013. Hikers who climb all six peaks earn a patch and the right to ring the 6er bell at downtown Saranac Lake's Berkeley Green. The peaks range in height from 2,452 feet (Baker Mountain) to 3,322 feet (McKenzie Mountain). In between are Haystack, Scarface, St. Regis, and Ampersand mountains. We will gladly help anyone who's interested in becoming a 6er. The mountains included in the Saranac Lake 6ers are listed below. All have views and most are outstanding on a clear day making the effort exerted for the climb well worth it!
Please submit a Plan A Trip form to schedule a guided 6er trip at a time that works for you.
Baker Mt. - (~1.8 mi RT - optional 2.0 mi LOOP; 2452' elev; 900' ascent)
St. Regis Mt. - (~6.8 mi RT; 2866' elev; 1266' ascent)
Ampersand Mt. - (~5.4 mi RT; 3353' elev; 1775' ascent)
McKenzie Mt. - (~7.2 mi RT - optional 6.8 mi loop; 3861' elev; 1940' ascent)
Haystack Mt. - (~6.6 mi RT; 2878' elev; 1240' ascent)
Scarface Mt. - (~6.8 mi RT; 3088' elev; 1480' ascent)
McKenzie & Haystack Mts. - (~8.9 mi LOOP; 2184' ascent)