CANOEING & KAYAKING - OVERNIGHT CAMPING TRIPS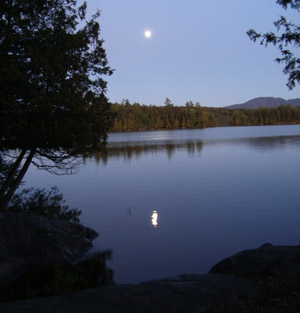 We generally plan overnight canoe camping experiences in the St. Regis Wilderness, William C. Whitney Wilderness, Middle Saranac, Weller Pond, Moose and Jones Pond. These areas are highly favored by canoeists and kayakers who return year after year. Our excursions to the more popular destinations are planned during the shoulder seasons for a more peaceful experience and more campsite availability.
During the daylight hours of our outings, we enjoy nature's finest while experiencing the peacefulness of the wilderness... a place where time is truly yours to enjoy. Twilight by the water tends to be rather relaxing, allowing us to wind down from the activities of the day. It's a time to fill ourselves with the quietness of the evening while watching any wildlife that wanders or swims by. The quiet is often broken by loons calling to each other and owls hooting throughout the night. It's a serene and lovely time of day. Sunsets across the water are astounding, as are sunrises for those who rise in time to watch them. If conditions are right, the mystique of the rising sun over mist covered waters is a visualization and feeling that will linger with you!
---
The St. Regis Pond area is ideal for anyone interested in spending quiet nights on a scenic glacial pond in the St. Regis Wilderness. We generally camp on St. Regis Pond and "pond hop" to Upper St. Regis Lake exploring Green, Little Long, Bear & Bog Ponds along the way. These ponds sit at the base of St. Regis Mountain, a wonderful backdrop for this area. Other ponds we "hop" to in this area include Little Clear, Grass, Little Green, and Ochre Ponds. All of these ponds are inhabited by common loons.
---
The Lake Lila trip allows exploration of Shingle Shanty Brook, Harrington & Rainer Brooks and the Beaver River as well as optional hiking. Swimming is quite popular at the many sandy beaches along the shore, and we are told the fishing is good also. A short hike to the open rock ledge on Frederica Mt. affords beautiful lake and mountain views on a clear day.
---
Some of the other locations we use for overnight trips include Round Lake-Little Tupper in the Whitney Wilderness area, the Stoney Creek Ponds & Raquette River and other areas.
---
GUIDED ADIRONDACK CANOE CAMPING TRIP RATES:
CUSTOM Guided Canoe Camping Trips - arranged upon requests: Plan A Trip form We will gladly arrange private trips at a time that works in your schedule based on our availability.
We prefer to keep the maximum group size at 4 people. We will accommodate up to 6 people if necessary.
Canoe, paddling gear, and camping gear can be arranged at current rental rates.

---

Guided Canoe & Kayaking - Overnight Camping Trips: Plan A Trip form We prefer to keep the maximum group size at 4 people. We will accommodate up to 6.
Camping gear and/or meals can be arranged at rental prices.

TWO DAY CUSTOM TRIP

- Beginning at $375/person for 2 people; $100 each additional person up to 4 people.
$600 for 1 person.


THREE DAY CUSTOM TRIP

- Beginning at $475/person for 2 people; $150 each additional person up to 4 people.
$825 for 1 person.

---