Backpacking Trips in the Adirondacks
High Peaks Wilderness
BACKCOUNTRY CAMPING...LODGING...MEALS...B&B...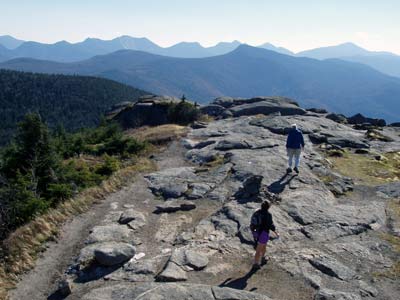 The Adirondack High Peaks Wilderness is the most popular area of the Adirondacks. There are many options for backpacking in this very scenic, yet rugged area. It is home to 34 of the 46 high peaks, has impressive mountain passes, mountain views, waterfalls, and many mountain lakes, ponds and streams. It is truly spectacular area to spend a few days! Because of the areas popularity to hikers during the spring, summer, fall seasons, we highly recommend planning overnight trips during the week to increase the chance of finding a place to camp. We plan and lead custom trips for folks who are interested in experiencing the remoteness that the area offers.
Contact us if you are interested in planning a high peaks trip at a time that works in your schedule. Please complete and submit a Plan a Trip form by providing as much information as you can in regards to your preferences. We will confirm when we receive your trip information and will send you trip options and price estimates as soon as we are able. Trip details, directions to the meeting point, a packing list and other pertinent trip information will be provided once a trip is decided upon and reservations are made. The most northern section of the Northville-Placid Trail runs through this wilderness. Though there are many lean-tos scattered throughout this area, we recommend planning to tent. Trips options include point-to-point treks, loop trips, and in & out excursions with day hikes from a base camp.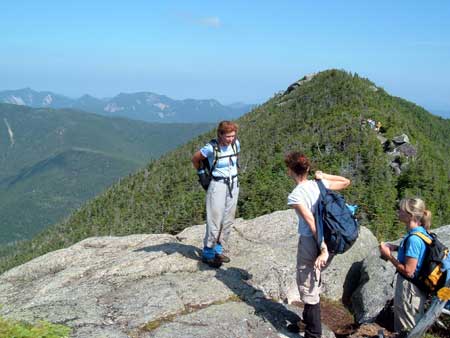 There are rules and regulations regarding hiking and camping in the high peaks wilderness that we must adhere to when planning trips. Camping is quite limited so we limit our camping group size to 4 people or 2 tents. The guide also has a tent which makes the 3 tent maximum that is allowed at campsites.
Adirondack High Peaks Wilderness Hiking and Camping Rules
Here is a summary of the rules and regulations regarding hiking and camping in the High Peaks Wilderness. The High Peaks Wilderness has two zones - Eastern and Western. The Eastern Zone is the most heavily used and has the most restrictive rules.