Winter Season - Cold Weather Camping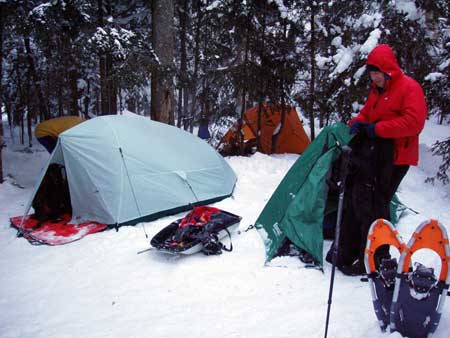 Winter Camping
Cold weather is unavoidable in the Adirondacks. With or without snow, it gets darn cold at times! That's no reason to turn into a "couch potato". The winter season offers new activities and challenges for the outdoor enthusiast to enjoy. Leafless trees afford better views. Frozen ground cover allows exploration of areas not easily accessible at other times of the year. Trails are generally smoother for travel once the snow arrives. There is a solitude in the winter woods that is seldom experienced during the warmer weather months. Snowy landscapes... fewer folks around... no pesky bugs...
We offer cold weather hike, snowshoe & winter camping experiences appropriate for beginners and novices in the "front country." We will teach you how to plan a winter or cold weather hiking, snowshoe or camping trip, what equipment you should take with you, tricks and tips for staying warm, traveling on snow & ice, setting up camp, food & nutrition for cold weather, cooking skills and breaking camp. We also plan 2-3 day backcountry winter trips for those who have some winter camping experience, enjoy cold weather hiking, snowshoeing or camping, but prefer not to go out alone. Contact us with your thoughts of what you would like to experience and we'll help you plan a trip. An outing that's right for you. Experienced guides, appropriate instruction to prepare you for your experience, snowshoes when necessary, camping equipment & meals are provided for our weekend experiences & wilderness camping packages. Participants must provide their own sleeping bag. Feel free to email us if you would like assistance with sleeping bag rentals.
Cold Weather Hike, Snowshoe & Camping Experiences For Beginners:
2-Day Experience
Cost: $195/person (minimum - 2 people; maximum - 4 people)
Mar 4-5, 2017
Please contact us regarding availability, details, and reservations. Thank you!
NOTE: If these dates don't work for you... let us know dates that will. If you are not able to find a friend to join you... "individual" experiences can be arranged.
NOTE: Optional lodging is available for those who would like to learn more about outdoor cold weather recreational opportunities during the day time but prefer to spend the evening indoors. There is an additional charge for lodging.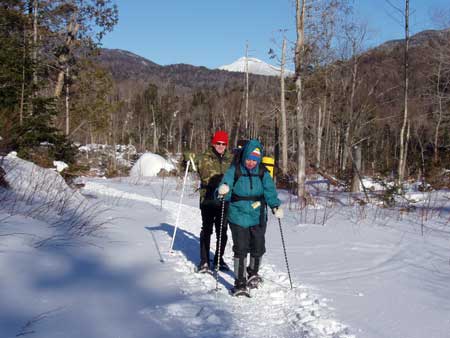 We offer a 2 day/1 night cold weather "front country" hike, snowshoe and camping experience designed for people who would like to learn more about cold weather hiking, snowshoeing & camping in a "controlled" setting. The location for this event is our home base at 90 Country Club Rd. near Tupper Lake, an ideal location for winter activities. There are snowshoe and X-C ski trails out our front door. Our wooded backyard is convenient for this winter camping experience. It allows easy access to a warm shelter during the night, should such be necessary. We begin our time together indoors with discussion, demonstration & instruction covering tents, shelters, sleeping gear, clothing, cooking equipment, food & water considerations, winter travel, tips for staying warm & cold weather concerns (hypothermia & frostbite prevention), etc. Then we head outdoors for an opportunity to experience some of what we covered inside - winter travel (hike or snowshoe), set up a camp site, outdoor cooking, etc. Snowshoes, packs, camping gear & meals are provided for the weekend. Lodging is available for anyone who prefers not to spend the night outdoors but would like to participate during the day time. We will gladly help you lodging arrangements if desired. Please note that there is an additional charge for lodging arrangements.
Instruction begins at 8:00 AM on the morning of Day 1. Expect to depart by 3:00 PM on day 2. Information for the weekend, driving directions, a clothing & gear list to help prepare for the experience, will be provided once your registration is processed. Besides instruction and leadership, meals Day 1 lunch through Day 2 lunch, snowshoes (as necessary) & camping equipment are provided for this experience. Participants must provide their own sleeping bag with a minimum 0 F comfort rating for a night in the "cold." Let us know if help is needed in locating such. We require a minimum of 2 participants to confirm a scheduled experience. Groups are limited to 4 people per session. Individual and private experiences can be arranged for those who desire such. Please contact us regarding availability, more information, and reservations. Thank you!