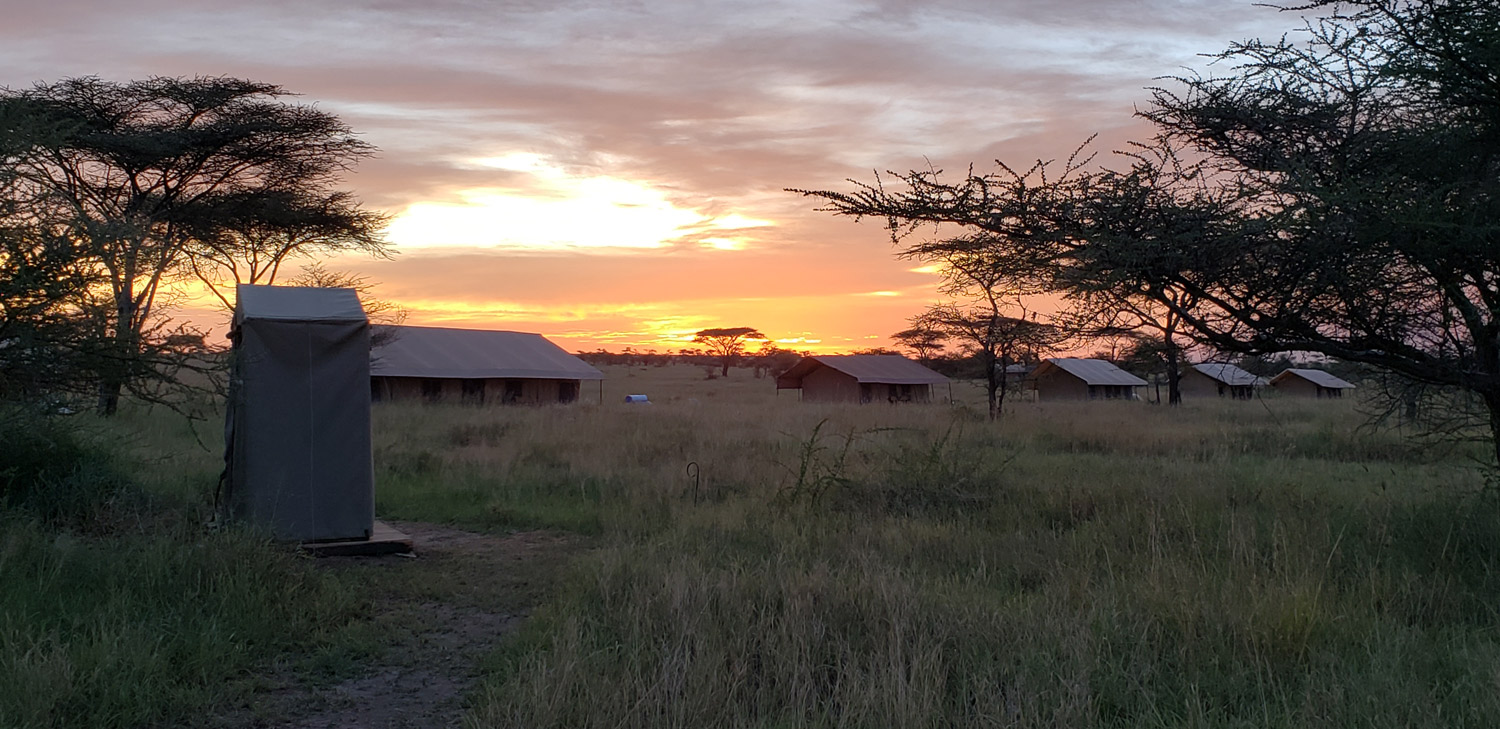 SAFARI THE NGORONGORO CRATER, ARUSHA, SERENGETI, and TARANGIRE NATIONAL PARK - GENERAL INFORMATION & TRIP PRICING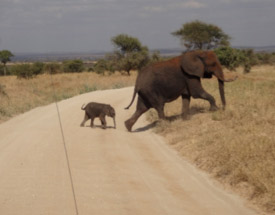 Tanzania , truly, is a safari destination without peer. The statistics speak for themselves: an unparalleled one-quarter of its surface area has been set aside for conservation purposes, with the world-renowned Serengeti National Park heading a rich mosaic of protected areas that collectively harbor an estimated 20 percent of Africa's large mammal population. We will visit 4 of Africa's premier national parks, including 3 nights in tented camp in the Serengeti and one day walking safari.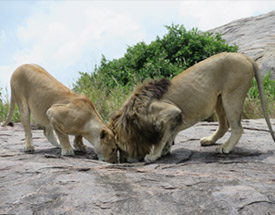 One thing that binds all these diverse national parks is its people, who take justifiable pride in the deeply ingrained national mood of tolerance and peacefulness. Tanzania, for all its ethnic diversity, is practically unique in Africa in having navigated a succession of modern political hurdles – the transformation from colonial dependency to independent nation, from socialist state to free-market economy, from mono-partyism to fully fledged democracy - without ever experiencing sustained civil or ethnic unrest.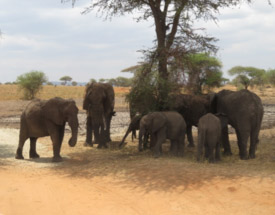 How to define the Tanzania experience? It's surprisingly easy, really. It can be encapsulated with one word which visitors will hear dozens of times daily, no matter where you travel in Tanzania: the smiling, heartfelt Swahili greeting of "Jambo" - HELLO or "Karibu!" – WELCOME!
Fly- USA to Europe. Next morning, fly from Europe and arrive in Tanzania in the evening of the second day. Overnight at Planet Lodge, Moshi
DAY 1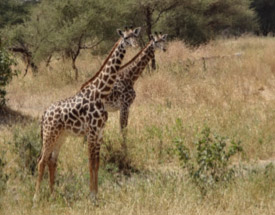 Morning game drive in Arusha National Park. After lunch we will do a flat terrain walking safari with a rifle ranger. Arusha National Park is home to many, many animals and birds. Often the animals are quite close to us, offering excellent opportunities for selfies. The park is home to more than 400 species of birds as well as elephant, giraffes, Dik-dik, wart hogs, Cape Buffalo, zebras and many primates. Safari is a treasure hunt! You never know what you'll see! Overnight at Planet Lodge. B, L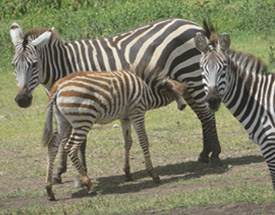 DAY 2
Drive from Arusha to Tarangire National Park, which is famous for elephants. Tarangire has the greatest concentration of wildlife outside the Serengeti ecosystem, making it also a great park for predators. You may find the Kori bustard, the heaviest flying bird in the world, the stocking thighed ostrich, the world's largest bird, as well as many other birds including the dazzling colored yellow-collared lovebird, the dowdy looking rufous tailed weaver and ashy starling. Tarangire's predators such as lions and leopards lounge in branches of trees where the fruit of the sausage tree disguises the twitching of a tail. Cheetahs may be seen, patiently waiting for prey, along the riverbanks. The "upside-down" Baobab trees stretch their root like branches to the sky. Overnight at Eileen's Trees in Karatu. B, L, D
DAY 3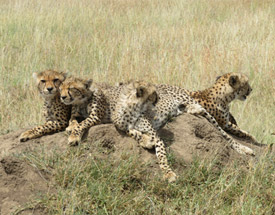 Drive to Serengeti via Oldupai Gorge and/or Maasai Village. Olduvai Gorge, or Oldupai Gorge, is one of the most important paleoanthropological sites in the world; it has proven invaluable in furthering our understanding of early human evolution. A steep-sided ravine in the Great Rift Valley that stretches across East Africa, it is about 48 km (30 mi) long, and is located in the eastern Serengeti Plains in the Arusha Region. We can tour the visitor center there for an extra fee. We can also visit a Maasai village for an extra fee where the locals will greet us with songs and dances of celebration. We will see the school and go inside homes. Just driving through Ngorongoro Crater Conservation area to get to the Serengeti is quite an experience! This entire day is a game drive as well as cultural experience. Overnight in Tented Lodge in Serengeti B, L, D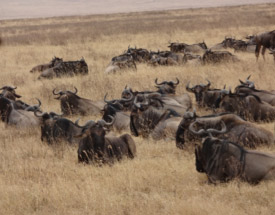 DAY 4
Full Day Game Drive into Serengeti. Our experienced guide, Yusuf, will determine which part of the 5,700 square mile World Heritage Site we will visit each day. The Serengeti offers arguably the best game viewing in Africa: great herds of buffalo, smaller groups of elephant and giraffe, and thousands upon thousands of eland, topi, Cape buffalo, impala, zebra and Grant's gazelle. This also provides an opportunity to observe the predator versus prey dynamic. Lion prides may feast on the abundance of plains grazers, solitary leopards haunt the acacia trees, while a high density of cheetahs prowl the southeastern plains. Almost uniquely, all three African jackal species occur here alongside the spotted hyena as well as the small, beautiful Serval cat. The Serengeti has over 500 bird species ranging from the secretary bird, Maribu storks and ostrich to the black eagles that soar effortlessly over the hills. Overnight in Tented Lodge in Serengeti. B, L, D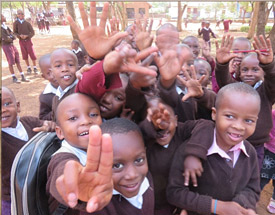 DAY 5
Full Day game drive in Serengeti. As enduring as the game viewing is the liberating sense of space that characterizes the Serengeti Plains. Generally a sunburnt savannah, this golden expanse of grass is transformed into an endless green carpet after the rains. Even though the Serengeti is so popular, it is so vast that you may be the only human audience privileged to observe nature at its finest. Overnight in Tented Lodge B, L, D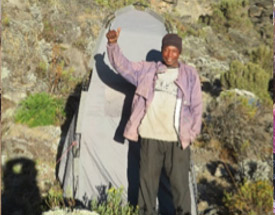 DAY 6
Game drive as we leave Serengeti National Park, returning and visiting Ngorongoro Crater Conservation Area. Black rhinos are extremely endangered and 22 live in this special place. This is our best chance to see them as well as many other mammals and birds. We hope to fit in a visit to Shalom Orphanage in Karatu which I have worked with since 2011. Yusuf has worked with them for many, many years. We usually go to the market in Karatu and purchase goods such as rice, beans, cooking oil, etc. I also enjoy bringing tennis balls, Frisbees, wiffle ball sets and soccer balls to them. Overnight Eileen's Trees, Karatu B, L, D
DAY 7
Drive to Moshi where we may visit Juma, one of my Kilimanjaro porter's home. In 2015, my group planted 10 trees around the land where Juma and other porters' homes were going to be built. Juma moved into his home in Dec. 2016. There was already another home built on the land when I was there in Aug 2017. We will have time to buy souvenirs such as fabulous Tanzanian coffee and will visit the large colorful market where the real people shop. Overnight at Pink Flamingo Boutique hotel, Moshi. We have a great view of Kilimanjaro from the pool area! B, L, D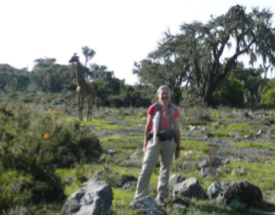 DAY 8
Tourist day in Moshi. We may visit Tumaini Junior School, where I sponsored Hemed, my assistant Kili guide's son. It is a private, English elementary school. Public school is in Swahili and is available until 6th grade but Secondary (High) School is in English so it's important for children to attend an English Elementary School if possible. We will have lunch with Yusuf's family at his home before we head to the airport for an evening flight. B, L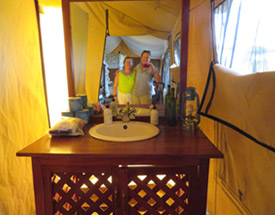 Your trip price of $4235 per person includes airport transfers, hotels, park entrance fees, safari vehicle and our excellent guide, Yusuf Ngaina, as well as most meals. I have worked with Yusuf on 5 previous expeditions and he has been to Lake Placid and other places in the US and has given presentations about Tanzania.
NOT INCLUDED: $100 visa fee, tips, beverages besides water, some meals in Moshi, airfare to and from Tanzania.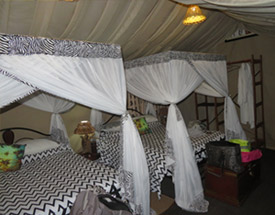 If you are interested in the trip, please send a non-refundable deposit of $500 per person to me and I will send detailed information about necessary immunizations and a packing list. Please make checks payable to: Adirondack All Seasons Guide Service and mail to me, Peggy MacKellar, 165 Elm Street, Lake Placid, NY 12946.
Final payment will be due September 15, 2020.
Contact us with any questions you may have, to check on availability or for more information.