TANZANIA/KILIMANJARO GENERAL INFORMATION & ITINERARY
Tanzania/Kilimanjaro Trip Description/Itinerary
Trip Leader: Peggy MacKellar
165 Elm Street Lake Placid, NY 12946. (518) 523-1341. cell: 860 713-8205. peggymackellar58@gmail.comHighlights:
- 7 day trek to the summit of Mt. Kilimanjaro 19,340 ft. This is one of the most varied and beautiful hikes I have been on in the world.
-Climb Mt. Meru, 14,800 ft, Kilimanjaro's lesser known little sister, a spectacular and less used mountain than Kili. Hike through a wildlife area. Excellent to help acclimatize for the Kili climb.
-Lodging in Moshi at Pink Flamingo Boutique Lodge, a quiet and beautiful place.
-Lodging on safari at beautiful Eileen's Trees hotel in Karatu.
-Safari to several of Tanzania's best parks including Arusha and Tarangire National Parks and Ngorongoro Crater.
-Tanzanian guide trained during visit to the USA.
-Trip starts and ends at Kilimanjaro airport, Moshi, Tanzania, Africa
Our Guide
Peggy MacKellar has led extensive ADK day hiking trips in the High Peaks for over 16 years. She has organized this trip for a groups of friends since 2011, summitting both peaks. She has a fantastic working relationship with Yusuf Ngaina, who is our head guide. Yusuf is college educated, speaks great English and has even given a talk at the HPIC at Adirondack Loj in Lake Placid.Mount Kilimanjaro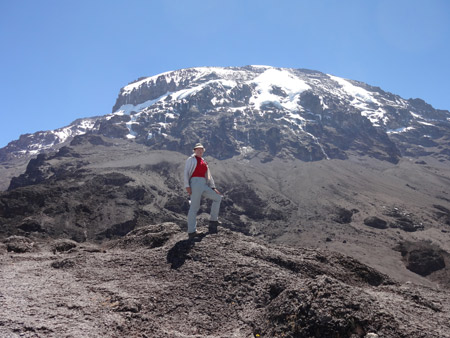 One of the Seven Summits and the highest point in Africa. This world famous volcano, with its snow capped peak rising above the African plain, is an almost irresistible lure. Despite its height of 19, 344 ft., with the right preparation, the summit is within reach of many people's ability. On the nontechnical route to the top (no rope or technical experience needed), a climber ascends through every ecological zone on the planet. If you have ever felt the draw of this mountain, read on!The local Chagga people have always revered the mountain. The first recorded ascent was only a little over 100 years ago. The trail we will take follows a longer, lesser-used route, which will afford us the chance to enjoy the beauty of the mountain and to acclimatize, which is the most significant factor in obtaining the summit. We will be using guides and porters and will be camping along the way to the summit. Our route will take us about one week to ascend and descend the mountain. We will be accompanied by porters, guides and cooks on the mountain. This will allow you to walk carrying only your day pack. Camp will be prepared for you by the staff on the trip. The land portion of the trip starts and ends in Moshi, Tanzania. Included in the trip are 3 days of safari to see some of Africa's legendary wildlife. Your time in Africa will yield enough exotic experiences to last a lifetime!
Mt. Meru
Mount Meru is Mount Kilimanjaro's little sister, standing at 4,566m (14,800 ft) compared to 5,895m (19,344 ft), but is still an impressive freestanding volcano, which makes a superb four day climb to the top. It last erupted in 1910 therefore can be classified as an active volcano. The first Mount Meru ascent was made by Dr. Fritz Jaeger in 1904. This is a spectacular mountain with amazing scenery and wildlife.
Accommodations
Some nights will be in private hotels such as in Karatu and in Moshi. Nights on Mt. Meru trek will be in 4 person shared bunkrooms in wooden bunk buildings. Nights on the Kili trek will be in 4 person tents provided by our guide service, 2 persons to a tent.
Guides:
We will use the same head guide, Yusuf, whom I used on every expedition since 2011. Yusuf has been to the USA to learn our culture, which will help you get more out of your trip. The service we will use is based in Moshi and has a tremendous amount of experience on the mountains. I chose him for his concern for safety and their reliability. Yes, he speaks excellent English. Many of his staff members, chef and porters have been to the summit of Kilimanjaro over 100 times.Group size: 6-10
Special Notes: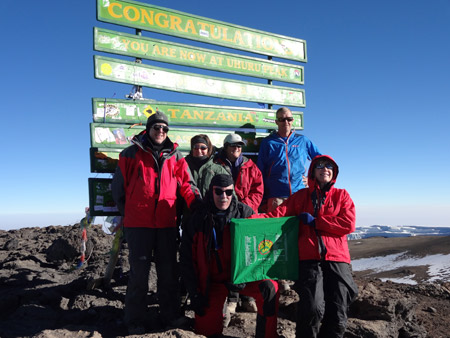 Fitness: This excursion is intended for experienced hikers in good physical condition. This is a challenging excursion. You will need to be in very good shape. You should take up a training program now. The effects of altitude are unpredictable and you will feel its effect. The top of the mountain will be cold and barren and breathing will be labored in the thin air. Please call to discuss your ability with me if you are concerned. The daily gain and loss of altitude is often more than the average difficult ADK day hike. The daily mileage is quite modest when compared with most ADK day hikes but hiking at altitude is a completely different situation. Footing is quite varied and can be muddy and rough or dusty and rocky. As with all outdoor activities, the weather will play a large role in our daily experience.
Culture Shock:
The African countryside is very poor. Such poverty can be shocking and overwhelming for those who have never before traveled to a Third World country. One thing that can help you deal with this is to do a bit of research ahead of time on both the culture and geography of the area. Starters on reading to give you a bit of background are "The Lonely Planet" guide series and the movies The Snows of Kilimanjaro and Out of Africa. Try doing some searches on the web as well.
Equipment:
You will not need anything too unusual. Standard camping clothing and basic winter gear are fine. More information is available upon request. You will receive information about equipment, medical advice including necessary vaccinations, altitude advice and logistics upon registration.
Outing Cost:
The cost will be $7641.00 per participant. Airfare is not included in the trip. Round trip airfare to Moshi, Tanzania (JRO airport) is approximately $1800-2500.00. (Book early to save!)

Included in the cost will be:

Group transfer from JRO to Airport Planet Lodge, Moshi, TZ Group transfer from hotel to Mt. Meru gate and back. Group transfer from Planet Lodge to Karatu and back. Group transportation on safari. Group transportation to and from Kilimanjaro trailheads. All meals except as noted below. All accommodations. Detailed packing and equipment list. Tips for guides and porters Private port-a-potty tent

Not included in the cost will be:

Airfare to JRO, Moshi, Tanzania Tanzania Visa. Cost $100.00 US payable in cash at JRO airport. 2 lunches and 5 dinners as noted in itinerary Drinks, both alcoholic and non-alcoholic Bottled water at the hotels and snacks All items of a personal nature Souvenirs Travel insurance. I highly encourage you to investigate this as a way to protect your investment.

Payment Policy

A deposit of $1500.00 is due at the time of registration. The remaining balance of $ 6141.00 is due no later than March 30, 2021.

Cancellation Policy

If you need to cancel the trip at any time, the deposit is not refundable. Trip insurance is highly recommended and is not included in trip cost. Itinerary for Tanzanian Kilimanjaro Adventure trip

DAY 0: Fly.

Leave US.

DAY 1: Fly.

Arrive at JRO, transfer to hotel

DAY 2: Start Safari

Tarangire National Park, stay at Eileen's Trees in Karatu B/L/D

DAY 3: Safari

Ngorongoro Crater Conservation Area. Stay at Eileen's Trees, Karatu B/L/D
DAY 4: Safari
Return from safari via local stops such as local market, Shalom Orphanage, village tours(very interesting) Stay in Moshi. B/L/-(Dinner not included)
DAY 5: Climbing Mt. Meru, day 1
Mt Meru Park Gate-Miriakamba. Drive to the Mt. Meru park gate then hike for a few hours to Miriakamba Hut at 8, 500 ft. B/L/D
DAY 6: Mt. Meru climb, day 2
Miriakamba Hut-Saddle Hut. 3-4 hours. Hike to 11,500 ft at the Saddle Hut. If time permits you can climb Little Meru for a scenic view of the "Roof of Africa", Mount Kilimanjaro. B/L/D
DAY 7: Mt. Meru climb, day 3
Saddle Hut-Summit-Miriakamba Hut. Saddle hut-summit will take 4-6 hours. We will get an early rise (in the night) to hike all the way to the summit. From the summit, descend back to the 11,500 Saddle Hut in time for lunch. After lunch, hike down to Miriakamba Hut for dinner and overnight. B/L/D
DAY 8: Mt. Meru climb, day 4
Miriakamba Hut-Mt. Meru Park Gate. Breakfast at the hut and a leisurely morning descending to the park gate. Transfer back to Moshi hotel. B/L/- (Dinner not included)
DAY 9: Day in Moshi
Yusuf's/Shopping/Pool Time B/-/-
DAY 10: Drive to Macheme gate, day 2
1830m/6000 ft, hike to Macheme camp, 3030m 9940 ft. Walking distance 5.5k/3.5 miles. Walking time: 5-7 hours. Altitude gain 1200m/3940 ft B/L/D
DAY 11: Macheme climb, day 2
Machame Hut-New shira Camp 3850m/12630ft. Walking distance 5.5km/3.5 miles. Walking time 4-6 hours. Altitude gain:820m/2690 ft. B/L/D
DAY 12: Macheme climb, day 3
New Shira Camp – Barranco Huts (3985m/13070ft.) via Lava Tower (4640m/15220 ft) Walking distance 10 km/6.2 mi. Walking time 5-7 hours. Altitude gain 135m/440 ft. (790m/2590ft to Lava Tower) B/L/D
DAY 13: Macheme climb, day 4
Barranco camp-Karanga camp (404m/13255 ft.) Walking distance 5.5km, 3.5 miles Walking time 4-5 hours. Altitude gain; 55m/185 ft. B/L/D
DAY 14: Macheme climb, day 5
Karanga camp-Barafu Huts (4680m/15360 ft) Walking distance 3.5km/2.2mi. Walking time 4-5 hours Altitude gain 640m/2105 ft. B/L/D
DAY 15: Macheme climb, day 6 Summit Day
Summit day via Stella Point (5752m/18871 ft) to Uhuru Peak (5895m/19340 ft) and descend to Millienium (3820m/12530 ft) or Mweka camp. Walking distance 5 km/3 miles ascent plus 10km/6.2 mi descent. Walking time:5-6 +1-2 hrs up, 5-6 down (The overall walking time may vary from 10-16 hours.) Altitude gain:1072m/3511 ft (Stella Point) or 1215/3980 (Uhuru Peak) Descent:2075/6810 ft. B/L/D
DAY 16: Macheme climb, day 7 Descend, transfer back to Springlands, Moshi.
After breakfast, we continue the descent down to the Mweka Park Gate. At lower elevations, it can wet and muddy. Gaiters and trekking poles will help. Shorts and t-shirts will probably be plenty to wear (keep rain gear and warmer clothing handy). B/L/- (Dinner NOT included) It's time for celebration!!
DAY 17: Night flight to USA. B/-/-
Contact us with any questions you may have, to check on availability or for more information.

Adirondack All Seasons Guide Service
You are the visitor. Thank you for stopping by.
' '